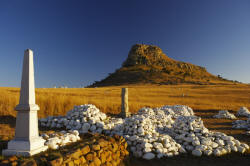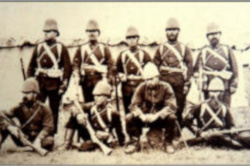 The battlefields region of South Africa witnessed four major events:
The arrival of European Settlers (Voortrekkers) in the 1830's and the ensuing conflict with the Zulus
The British conflict with the Zulus in 1879
The First War of Independence (1880 - 1881) between the Transvaal Republic and Great Britain
The Second War of Independence (1899 - 1902) between the Transvaal Republic and Great Britain
The Itinerary
Day 1 - Pick up in Johannesburg / Pretoria area. Depart early and drive over the central plateau region to arrive at Majuba (1st Boer War 1880 -1881) mid-morning. A short climb to the top of the hill give a great panorama of the battlefield. A short stop in the little town of Utrecht for lunch and then continue to the Blood River / Ncome (Voortrekkers 1838) site. Afternoon exploring the site and visiting the two museums there. Overnight in Dundee.
Day 2 - After breakfast we first visit Isandlwana (Anglo-Zulu War 1879) for the morning. The afternoon is spent exploring the site of Rorke's Drift (Anglo-Zulu War 1879). Overnight Fugitive's Drift Lodge.
Day 3 - In the morning we first take a walk to Fugitive's Drift - the site where Melville and Goghill were killed. Late in the morning we move on to Ladysmith (2nd Boer War 1899 -1902) via Elandslaagte. The afternoon is spent at the Siege Museum and if time permits we can explore the town. Overnight Ladysmith.
Day 4 - The tour explores the sites of Colenso, Vaalkrans and Spioenkop (2nd Boer War 1899 -1902). Overnight at a lodge in the Spioenkop area
Day 5 - The tour returns to Johannesburg via the Oliviershoek Pass to arrive mid-afternoon.
You are welcome to modify the itinerary to suit your interests or schedule.