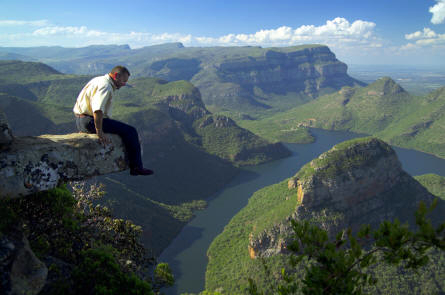 Diederik has been guiding since 1988, and established Touch Africa Safaris in 1991. Touch Africa Safaris is an inbound tour operator based in Johannesburg, South Africa that offers high-quality itineraries for groups of 1 to 80 travelers! We arrange mini-bus tours, day tours, coach and group itineraries as well as special interest tours such as bird watching, battlefield, culture, wildlife tours.
Tertiary Qualifications BSc Botany and Zoology - University of the Witwatersrand
Additional subject - Archaeology
Diederik speaks Afrikaans, English, Dutch and Flemish
ID Number / Passport Number 6308015103089
Guide Registration Number GP1793
F.G.A.S.A. Registration 12040 - Level 3 Trails Guide (NQF6)
Residential Province Gauteng Contact Number - Cellular +27 (0) 82-412-1830
Residential City Johannesburg Contact Number - Landline +27 (0) 11-704-3502
The Safari Guys
The Safari Guys is the adventure travel division of Touch Africa Safaris. We offer 4x4 Adventure Tours throughout Southern Africa. The tours can best be described as multi-country, long distance, overland adventure tours.
Car rental is available for international clients.
Provinces Qualified National Guide
Eastern-Cape Free-State Gauteng
KwaZulu-Natal Limpopo Mpumalanga
North-West Northern-Cape Western-Cape
F.G.A.S.A. Qualified Level 3 Trails Guide - NQF6
Other Guiding Qualifications Swaziland
Other Tourism Qualifications Emergency Care Level 2, F.G.A.S.A. Level 3 Trails Guide - NQF6
Specialities Overland Safaris, Wildlife Safaris, Bird Watching, "Birding Tours", Scuba Diving, Professional Overland Operator
Highest School Qualification Grade 12
Last School Attended Christian Brother's College, Pretoria
References Available: Yes
Name of Operators Worked For Type of Tour/s Done
The Safari Guys Overland Tour Operator - Adventure 4x4 Tours through Mozambique, Malawi, Zambia, Zimbabwe, Tanzania, Namibia, Lesotho and Swaziland
Touch Africa Safaris - Johannesburg Wildlife Safaris, Kruger National Park Safaris, Pilanesberg Safaris
Day Tours to Cradle of Humankind, Pretoria, Johannesburg, SOWETO, Suikerbosrand.
National Overland Tours from Johannesburg through Mpumalanga, Kruger Park, Swaziland, KwaZulu-Natal, Lesotho (Sani Pass), Free State, Eastern Cape, Garden Route, Namaqualand, Kalahari and Cape Town
Scuba Diving Tours
In 2002 - Touch Africa Safaris was awarded the contract for the IPSC World Shoot
1000 participants - all logistics, tourism and transport
Fairfield Tours - Cape Town National Overland - 14 and 21 Days - Luxury Coach tours
Thompson's Tours - Durban National Overland - 14 and 21 Days - Luxury Coach tours
National Overland - 21 day camping tours - South Africa and Zimbabwe
Natal Parks Board Walking Safaris and Ranger: Hluhluwe and St. Lucia Eastern Shores
Clive Walker Safaris - Johannesburg Walking Safaris - Klaserie Game Reserve, Tuli Block (Botswana), Okavango Delta (Botswana)
Wilderness Trust - Educational Walking Trails with school groups in the Lapalala Wilderness Area
Type of Tours Preferred Long overland 4x4 tours, Wildlife Safaris, Kruger National Park Tours, Pilanesberg National Park Tours, Nature Orientated Tours, Bird Watching or "birding" tours.
National Coach Tours for 21 days, Historical Orientated Tours
Other Relevant Information Have a broad and extensive knowledge of the history of South Africa.
Hobbies include Scuba Diving, Bird Watching, Wildlife, 4x4 excursions.